How do I buy fresh vegetables online in Dubai?
Buying vegetables online to serve your fresh food cravings on Chefmart's organically produced vegetables is directly importing from farms that are unparalleled when it comes to freshness. order vegetables online in a simple way as follows:
Option 1: Log in chefmart ->Select a wide range of organic vegetables -> checkout your order and get it within the same day.
Option 2: Place your order through WhatsApp – +971 54 372 9242 or email us – [email protected]. Order before 9.AM to get vegetables on the same day.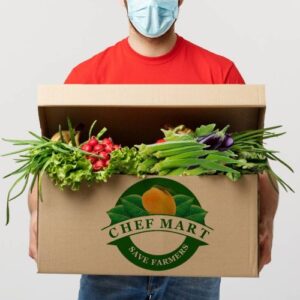 Which is the best website to order organic vegetables in Dubai?
Go with organic, chefmart's online grocery shopping to satisfy your search on getting the best organic vegetables at a comparatively lower price with high quality in UAE.
How do I get the vegetables delivered to my doorstep in Dubai?
Organic vegetables are knocking your door to boom your healthy life becomes a little better with its high quality. Order online grocery Dubai with cash on delivery option as well. We will reach at your doorstep on the same you have ordered.
Where do I buy cheap and quality vegetables in Dubai?
Fulfill your budget and health in a single tap of online grocery purchases at chefmart, buy fresh vegetables online at a reasonable price with our high-end quality services.
Which website provides free and cash on delivery for vegetable orders in Dubai?
Stay home, order vegetables, and other grocery delivery. Chefmart pleased to serve their freshly produced farm to table vegetables, fruits, rice, and more groceries at your doorstep in free cash on delivery option for the order over 69AED to make you more comfortable and keep healthy.